NEW LEADER FOR HEREFORD LIONS
New president of Hereford Lions Club is Jim Hamilton who first joined the international community service organisation in Surrey in 1983. A move to Herefordshire in 1996 saw him join Ross-on-Wye Lions and later the Forest of Dean club before switching to the city club when five years ago he and his wife, Louise moved home to Allensmore.
A retired computer software consultant, Jim is a former chairman of Lions national IT committee and has also served as District Governor of Lions 105W which covers South Wales to Wiltshire. He brings considerable experience of the worldwide organisation to his latest role leading the city Lions Club.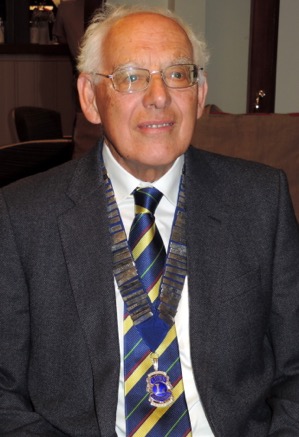 Lion Jim Hamilton


LIONS CHARITY GOLF WINNERS
Winners of Hereford lions Club's annual charity golf tournament at the Herefordshire Golf Club were the four man team of (l to r) Ron Jones, Ron East, Ray Bayliss and John Taylor, pictured with Lions president Jim Hamilton (centre) who presented the prizes. Playing on their home course, the team returned a score of 114 points, three ahead of runners=up, Rory Hollinshead, Chris Aspey, Mark Davies and Jon Dallow. The winning ladies team was Pauline Foster, Gina Wyke, Clare Hadley and Sue Price of the Grove golf club.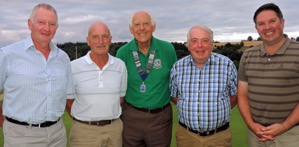 The popular event attracted 41 teams and raised £5,000 for the Prostate Cancer appeal fund, one of the charities being supported by Lions Club this year.

GARDENING ON THE CURRICULUM

Sixth form students at Barrs Court special needs college based in Symonds Street in Hereford can now learn about gardening thanks to the gift of a poly-tunnel which was officially opened before the start of the summer holidays.
Special guests were Mike Hughes of Hereford Lions Club and Jude Norcott of S & A Davies, the Marden based soft fruit growers who joined forces to help the students achieve their wish to take up gardening. Lions undertook the ground work and S & A built the poly-tunnel now full of vegetables and flowers. Expert help was given by tutors from Growing Point and Growing Local, and teaching assistant Rex Birchmore.
Rebecca Roberts, who co-ordinated the project said: "The whole college was very excited to have this new and exciting opportunity to include gardening on the curriculum. Produce from the poly-tunnel was sold at our summer fete."
She added: "We would like to say a huge thankyou to everyone involved in providing Barrs Court with this fantastic resource."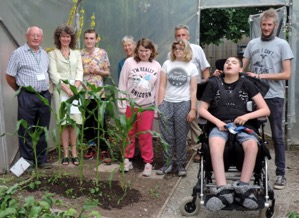 COFFEE MACHINE FOR SAXON HALL
The café at Saxon Hall community centre at Putson in Hereford is now serving superb coffee in a variety of flavours thanks to a £600 coffee making machine donated by Hereford Lions Club. The café is run by Echo, the charity which provides work training and experience for young people with learning difficulties.
Said club president, Ian Foster: "It's a two-way win - the young trainees get to use the smaller version of the kind of machine used in city centre coffee shops, and their customers enjoy top quality coffee. We were delighted to buy it for them."
Victoria Craig, the Saxon Hall manager said: "The café is a partnership between the centre and Echo and is much appreciated by the groups using the centre. It is hoped to extend the days it is open."
She added, "Loneliness amongst the elderly is an issue in the community and the café could be a great asset for an organised drop-in centre for them to share some company with others. The coffee machine is a wonderful gift from the Lions Club and will be greatly appreciated by everyone using Saxton Hall."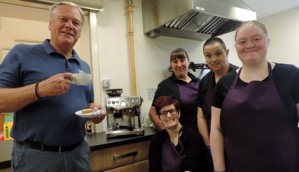 Ian Foster samples a cup of coffee with Amanda, Tracey, Dan and Laura.


STAN'S CAR WILL HELP OTHER WHEELCHAIR USERS
The family of Hereford business man, Stan Austin who died, aged 85 in February have donated a useful legacy to those, who like Stan are confined to a wheel chair.
Stan founded Kings Radio selling televisions and radios, retiring in 1982. Five years ago health problems led to both his legs being amputated and he bought a specially adapted car for his family to take him out in his wheelchair.
He had been a long serving member of Hereford Lions Club and his nephew Paul Prosser donated the vehicle to the club. When the club heard that the community transport service, Dial a Ride's same single wheelchair car was no longer useable they give them Stan's. Said club president, Ian Foster "It is a perfect legacy in memory of Stan."
Paul Dopson, general manager of the Plynlimon Trust the charity running Dial a Ride said: "A lot of wheelchair users rely on us to get them to doctor appointments or on outings so the gift from Stan's family and the Lions Club was just what we needed."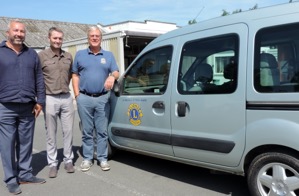 Lion president Ian Foster (right) hands over the vehicle to Paul Dopson (left) and Marc Hales.
CAR BOOTS CONTINUE INTO THE SUMMER

A extra special car boot is planned for Bank Holiday Monday! Come and join us!

The Car Boot season has truly started. Householders have started to clear out to make some extra cash and the buyers have turned out in force in search of bargains. Or for the really lucky ones the chance to find a rare vase or diamond which will sell for tens of thousands of pounds at an antique auction.
Some car boot sales, like the one run by Hereford Lions Club on a field opposite Bookers on the Aylestone Hill end of Roman Road which help raise funds for local charities. Since it started eight years ago the Lions car boots have raised over £45,000 for local community projects.

Call our Car Boot Line on 0844 5008717 for details ( sometimes due to bad weather it is cancelled)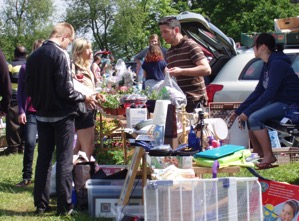 LIONS TEDDIES BRING SMILE TO INJURED GYMNLAST

Top county gymnast Eden McGarvie broke her leg falling off a trampoline during a training session ahead of a qualifier to win a place in the West Midlands team for a national gymnastics competition in April.
The 10 year old Hereford schoolgirl needed cheering up after spending the night in the children's ward at the County Hospital and knowing her chances of competing at a national level was now on hold. Right on cue Hereford Lions Club turned next morning with a delivery of 100 teddies for the children's ward, bringing a big smile to Eden's face when club president Ian Foster presented her with the first one.
Said Ian: "Missing out on a possible place in a major national competition was a huge blow for Eden but seeing her big smile and determination to get fit and be back in training showed just how important the gift of soft cuddly toy is to children facing hospital treatment .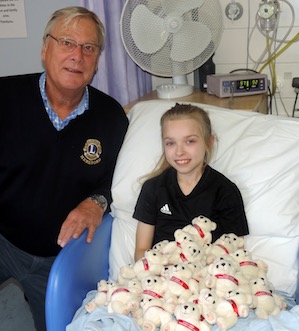 Eden with lots of teddies and Lions president Ian Foster .



SUCCESS OF RECYCLING SCHEME

Hereford Lions Club's latest community project recycling mobility scooters and wheelchairs is proving to be a big success. One satisfied 'customer' Brenda Bayliss summed up the free service: "It's a wonderful scheme, a real godsend for those like me who have difficulty walking and perhaps can't afford a new one. The scooter Lions gave me has given me more freedom."
Families donate unwanted disability aids to Lions who refurbish them and pass them on to someone in need of one. Several are currently available Lion Terry Williams said: "The response has been very encouraging. It makes good sense to find a new home for an unwanted aid for the handicapped."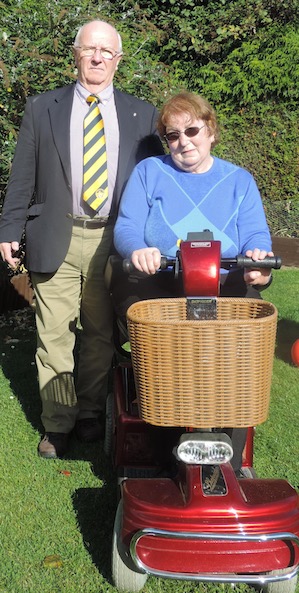 Terry delivers a sturdy scooter to Brenda Bayliss.

AWARD FOR CLUBS YOUNG AMBASSADOR
Hereford's candidate in the District Young Ambassador competition, Georgia Ellis 18 who achieved the runner-up spot attended a club meeting to describe the experience. Georgia is a mentor at the Young Carers group and a Brownies Leader. She plans a gap year in America as an Au Pair and the club awarded her £250 towards this.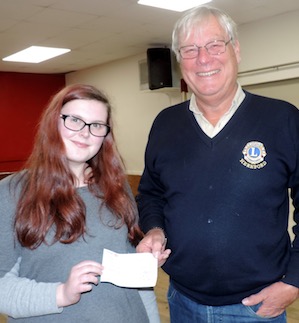 She is pictured receiving the cheque from president Ian Foster.


ABILENE Brown Leather Western Western Cowboy 19946 Leather Boots Size 9 23c45ab